Books Reread
The Wee Free Men by Terry Pratchett
Tiffany Aching book 1 of 5; Discworld Series book 30 of 41
This series is another of my favorites. I love Terry Pratchett in general, but Tiffany is one of my favorite heroines of all time. She is practical and clever and even at age 9 is ready to take on the queen of the faeries to get her little brother back. It's hilarious, it's full of memorable characters, and it should not be missed.
5/5 tiny blue men
New Books Read
Cinderella is Dead by Kalynn Bayron***
CW: misogyny
My first new book of the year! You know by now that I love fairytale retellings. If you read very many of them, you may think you've read every original take on Cinderella, and there can't possibly be anything new in that story. But boy, have I got news for you. This is another Book Tok recommendation (it's gay and it slaps), and it's great for several reasons. One is the dystopian take on Cinderella; the story is set in a world where the Cinderella story is used as a religion to oppress women. The other reason is the gay characters who are secure and unashamed of their identities. There's nothing wrong with a good coming out story where gay characters are trying to come to terms with their identities, but it's refreshing to read a story where the characters are already out and secure and ready to go on an adventure.
4.5/5 glass slippers
The Sun is Also a Star by Nicola Yoon***
Book Hangover Alert**
CW: racism
I don't read a ton of YA romance but this book was fabulous. Nicola Yoon is such a good writer, I literally sat on the couch all day and read this book until I was done. I loved that this book, while being a YA romance, also engaged with difficult topics like identity, immigration, racism and microaggressions. I loved the way it was like a constellation, the lives of the main characters radiating out to touch other lives. Its ending was great, not too sappy, just the right amount of bittersweet.
4.5/5 Korean karaoke bars
Mr. Dickens and His Carol by Samantha Silva
I was really excited to read this book, because as I mentioned in my December post, I love Charles Dickens. This story is a fictional retelling of how Dickens wrote A Christmas Carol (my favorite Dickens book). But honestly I was kinda disappointed. If you've seen the movie The Man Who Invented Christmas, the book was like a not-as-good version of that. So I'd just watch that movie instead. I found Dickens as a character a bit unlikeable (I don't have any idea if the character is like the real Dickens, but at any rate I didn't like him). I felt like the Eleanor Lovejoy character was almost not necessary and kind of just annoyed me because Dickens already has a great wife, and why is she not worthy of being a muse? The beginning was a bit slow and I wanted more about exactly what inspired Dickens to write the book other than this mysterious woman and running into people that had cool names like Jacob Marley. Now that being said, I did really enjoy the language Silva used; she describes things in a way that is unique, but also calls to mind Dickens's own writing and other writing of that era. And the ending was great. Very Christmassy, full of good spirit and cheer, happy, and satisfying.
3/5 Christmas wreaths (the ending really saved this rating)
Red, White & Royal Blue by Casey McQuiston***
Book Hangover Alert!
I just said above that I don't read a ton of YA romance, but apparently I do this month. Fabulous. Adorable. Couldn't put it down. I was walking around my house with my phone in front of my face trying to do everything one-handed while I read the ebook. As Book Tok would say, "it's gay and it slaps." This book is about the First Son of the United States falling in love with the Prince of Wales and it's just as wonderful as it sounds. It was also nice to read about the politics of the US in a world where Trump has never existed. It was so hopeful and lovely and I adored it.
5/5 dogs named David
The Thirty Names of Night by Zeyn Joukhadar***
CW: body dysmorphia
So beautiful. Joukhadar's prose is just so gorgeous. Also I love birds. I don't think I've ever read a book about Syrian immigrants before so that was really cool and I felt like I learned a lot. There are also trans and nonbinary characters which we always want to see more of. I liked thinking about how those identities are navigated in the cultural context of being a Syrian immigrant. I also loved the way all the threads of the story were woven together from the past to the present; it was super satisfying to read.
4.5/5 mysterious birds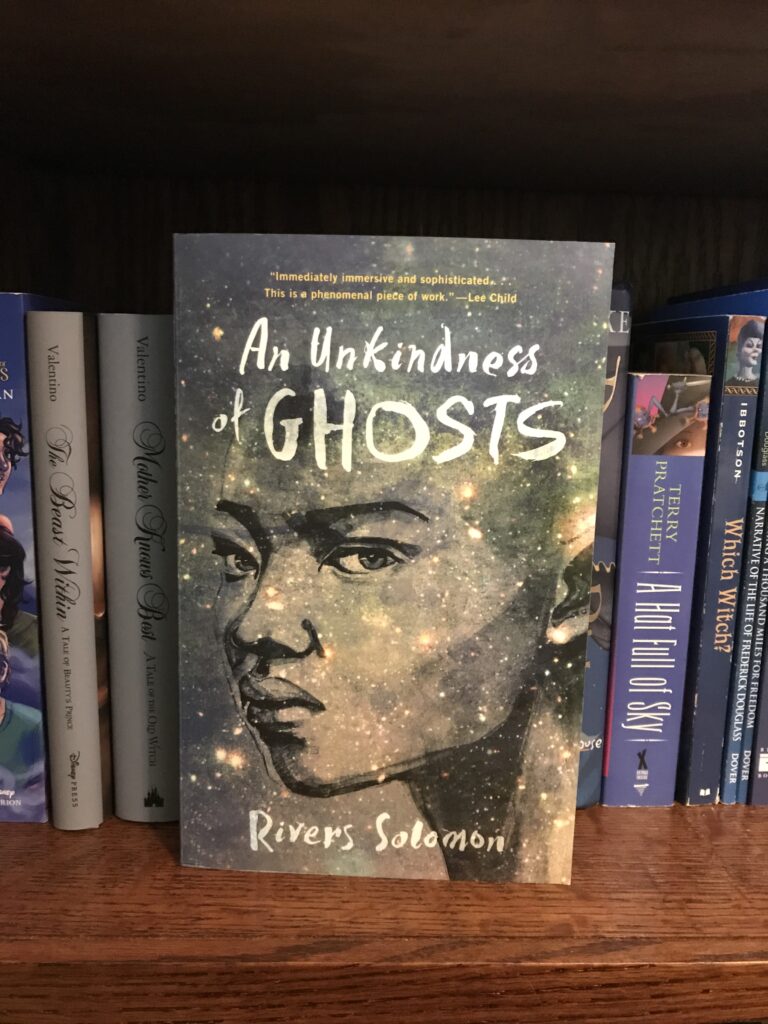 An Unkindness of Ghosts by Rivers Solomon***
CW: assault, attempted and reference to sexual assault, racism , misogyny, public executions, oppression, body dysmorphia
Nonbinary authors in science fiction! We love it! The world constructed by Solomon was so interesting. The characters were memorable and the voice of the whole novel was really strong. We had some trans characters and some nonbinary characters, and I read Aster as autistic. I appreciated that while Aster had autistic-coded traits, she wasn't a one dimensional or stereotypical representation of an autistic. I do have some questions though. I feel like maybe I didn't quite understand all the science about the ship and their navigation, so if anyone has read it, I'd love to chat about it. I also wondered about the patriarchy. The ship is split into Decks and its a caste system: people born on the lower decks are lower in social status. The Decks also have their own language dialect and culture. Aster says the children on T Deck are called they/them until they are older, while children on Q Deck are all referred to as she/her. But the ship itself is so highly patriarchal and traditional as far as gender roles (like the game of house that Aster and Giselle play). It just seems odd to me that gender roles for adults would be so strict when they weren't as children. Unless that's just a T and Q Deck thing and the patriarchy is reaffirmed by the upperdeckers who are in power? Let me know if you want to discuss.
4/5 frozen severed feet
Books read for the Community Cats Podcast blog
Let's Talk About Cats by Anita Kelsey
By a behaviorist and groomer, this book is a combination of interviews, tips, and stories from Kelsey's work. Though I read it straight through, it is broken down in such a way that you could just read the chapters that are relevant to you or that particularly interest you. Kelsey interviews big names such as Jackson Galaxy, Kate Benjamin, Jennifer Conrad, and the Cat Man of Aleppo. She covers topics like cat behavior, cat vocalizations, what to feed your cat, whether cats grieve or enjoy music, and more. I thought the interviews were really interesting and Kelsey shared good tips and lots of food for thought about how we can make our cats lives the best they can be.
3/5 happy cats
The Cat That Changed America by Tony Lee Moral
I feel bad because the author of the book sent it to me to review for the Community Cats Podcast blog and I didn't really like it. It is geared for children, but good writing is good writing, and I don't think it was great writing. I do think the cause of the book is great; it was written to raise awareness about building a wildlife corridor in the Santa Monica Mountains to link different habitats to keep wildlife from being killed on the highways. The book is written from the perspective of P22 a real mountain lion who made his way through LA and now lives alone in Griffith Park. I just felt the anthropomorphization was a little off-putting and inconsistent. Like P22's name for example, I know that since he's a real mountain lion, that's how they identify them, but it's a terrible name and it's a bit hard to connect with a character named P22. It's like how stormtroopers all have letter-number combination names. And it's unclear what P22 knows about humans. At first he talks about these metal monsters, but then he seems to know what cars are and what highways are later. P22 is also upset when he learns this other mean mountain lion is his father, and it seemed really odd to give human notions of fatherhood to animals who grow up with no contact with their sire. I sent the book to a friend to see if her kids liked it, as that's the intended audience. But anyway, I hope they build the wildlife corridor.
2/5 mountain lions
**Book Hangover Alert indicates the kind of book that will leave you full up on love. Satisfied, but wishing the book never had to end. You'll be laying on the floor with no idea what to do with yourself (other friends have called this feeling Good Book Depression or say that certain books necessitate Floor Time). This is the kind of book that gets its teeth in you and won't let go easily. After the last page you'll be thinking about this book for a long time. You'll bother all your friends trying to get them to read it so that you won't be alone in your Hangover.
***This book is part of my Books for a Social Conscience series! Read Cinderella is Dead for an original take on an old classic starring LGBTQ+ people of color. Read The Sun is Also a Star to learn more about the immigrant experience and the politics of biracial love. Read Red, White & Royal Blue for a hopeful look at what the future of inclusion of LGBTQ+ people looks like. Read The Thirty Names of Night for a look at LGBTQ+ experience as well as Syrian immigrant experience. Read An Unkindness of Ghosts for original sci-fi featuring disabled, neurodivergent, LGBTQ+, and BIPOC characters, and to add another nonbinary author to your library.
Reads marked as part of the Books for a Social Conscience series will regularly address topics like race and racism, colonialism and post-colonialism, LGBTQ+ experience, feminism, BIPOC experience, social and political issues, history, identity, class, disability experience, immigration, gun violence, poverty, colorism, environmentalism, and more! The goal of these books is to diversify the stories we're reading, grow our empathy for those who are different from us, and amplify voices who are often silenced.